Mission
The JAFSCD Community is made up of the supporters of and contributors to JAFSCD. That includes members of the JAFSCD Shareholder Consortium (academic programs and institutions, nonprofit organizations, and agencies), the JAFSCD Editorial Board, associate editors, members of editorial circles, reviewers, and others.

The purpose of the JAFSCD Shareholder Consortium is to provide ongoing input on the policies and practices of the journal, to periodically evaluate the performance of the journal and measure its impact, and hold the journal accountable to meeting the needs of its shareholders.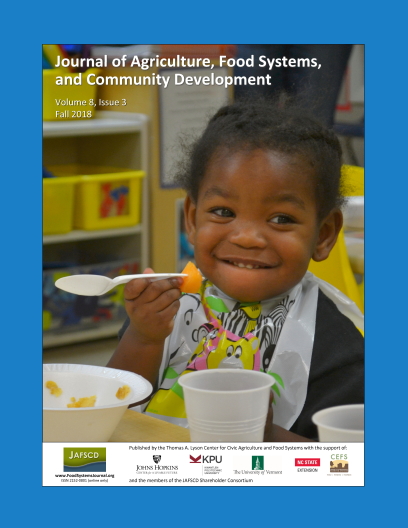 On the cover of our fall 2018 issue, a child enjoys a morning snack of local cantaloupe at a childcare center in Cary, North Carolina. This center, along with many other providers from around the country, are enrolling in farm to early care and education programs to help connect low-income families with sources of fresh, local foods. See the article in this issue, Farm to Childcare: An Analysis of Social and Economic Values in Local Food Systems, by Jacob C. Rutz, J. Dara Bloom, Michelle Schroeder-Moreno, and Chris Gunter. Photo credit: Jacob Rutz; used with permission.